---
Urban Assault Mountain Biking
Urban Assault Biking is increasing popularity everywhere. Urban assault is basically extreme biking in an urban environment. Since many of us don't live near any natural riding terrain, urban riding is the next step. Urban riders enjoy jumping off of large objects including buildings for some crazy riders. Urban riders tackle stairs and rails like skateboarders, and share a lot of the same terrain as the skating community, including ramps and skate jumps. Just make sure you don't wreck any skaters jumps. They wont be happy.
Urban Assault Bikes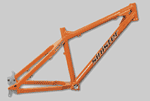 You can use just about anything for an urban bike. Many bike manufacturers are building beefed up hard tail bikes specifically for urban riding. Most urban riders use smaller frames without full suspension. Urban bikes are smaller than mountain bikes and many people opt for 24" wheels vs. the standard 26" mountain bike wheels. Urban bikes are a medium between BMX style bikes and mountain bikes. We have built up great urban bikes from spare parts, and when you do it this way, your not as concerned about destroying your bike. Urban bikes tend to take a beating. You really don't need great components to have fun urban riding, but check your bike often for any safety concerns. Also, if you can convert your axle's to a thru axle design, do it. Wheels that are bolted on, rarely ever fall off, and a full axle is much less likely to get damaged compared to quick release axle's.
Urban Biking Safety Gear
For urban safety gear, we recommend the minimum of a good helmet, gloves, and good firm shoes, and it is best to use shin guards and elbow guards for larger jumping. Get a helmet like a BMX or skate helmet that covers more of your head than a mountain bike helmet. There are also a few MTB helmets that offer more coverage for urban and dirt jumping riding. Just remember to play it safe, and stay within the limits of you and your bike.