---
Downhill Mountain Biking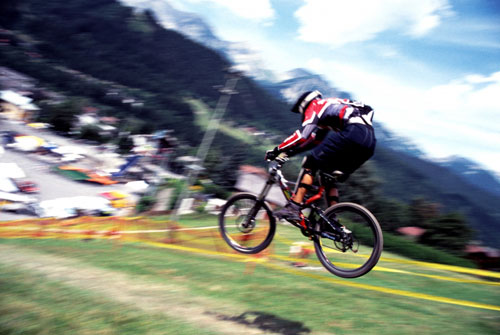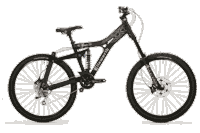 Downhill Mountain Biking has taken a lot of interest over the past 7 - 8 years. People are moving away from traditional cross country racing and into downhill. With many ski areas that allow people to ride to the top with their bikes in the summer, downhill's popularity has increased even more. Downhill is all about going fast, and pushing the limits of the rider while traveling down unpaved bumpy, and rocky roads and trails at very high speeds. Protective gear is absolutely essential for downhill riding. Most riders opt for full face protection as well as shin and elbow guards, and sometimes full body armor. You don't want to crash while downhill riding, and serious injury can result even if you are wearing you safety gear. But, downhill riding is a thrill and really fun ride. Just be sure to stay within your own limits and stay within the limits of your bike and gear.
Downhill Bikes and Frames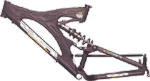 Bicycle manufacturers are making some of the most high tech bikes specifically for downhill riding and racing. Downhill bikes are almost always full suspension with a lot of suspension travel. Their prices range from $400 - $500 for an entry level bike to thousands of dollars for high end racing bikes. We don't recommend spending less than about $400 unless it is a really good sale, because the component quality level below this price is usually too low to be safe. Don't buy a full suspension bike from Walmart or K-Mart, and expect it to be a sturdy safe piece of equipment. You get what you pay for and these bikes aren't made to be ridden hard. It is very common to be able to get demo bikes from local shops for a huge discount. These bikes usually have good components and you can often save 50% or more if you buy a demo bike.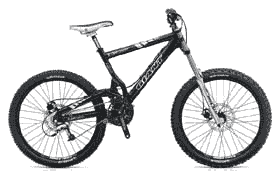 For a cheaper alternative to a full suspension bike, you can make a burly front suspension downhill bike. Make sure you have a very strong frame, like a dirt jumping frame, and a good front shock with a lot of travel. These bikes are a blast to ride, and we like them as much as full suspension bikes, but be prepared for a hard ride. A suspension seat post isn't a bad idea either. Your shoulders and legs will feel this ride if you ride it like a full suspension bike.
Bike manufacturers are making super sturdy frames with huge amounts of suspension travel just for downhill riding. We have seen travel in the 9 - 10 inch ranges lately. This is more than most cars and trucks. Downhill bikes are very sturdy and weight isn't a huge concern since you rarely have to pedal uphill.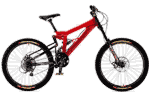 Some of our favorite downhill frame manufacturers are Santa Cruz, Ellsworth, Foes, and Intense. These frame manufacturers are at the top in quality, but are also at the top in price. For more reasonably priced bikes and frames, check out bikes from Specialized, K2, Azonic, Trek, Giant, Gary Fisher, and GT. There are many other reputable manufacturers out there. Just look around and find out what other people like.
Downhill Components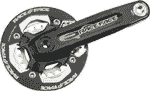 Downhill bikes need special components to withstand the abuse, that these bikes take. A good braking system is essential, and we recommend mechanical or hydraulic disc brakes for downhill biking, but good V-Brakes, will usually work OK. It is also best to get a downhill Bottom Bracket and Crankset. These components have been designed to be extremely stiff and strong. Shimano, Truvativ, Raceface, and FSA all make crankset's for downhill riding. Standard MTB shifters and derailleurs should work fine. We recommend rapid fire vs. grip style shifters for downhill riding. Weight isn't a huge factor so buying the most expensive, lightest weight components out there is probably just a waste of money.
Downhill Front Forks and Shocks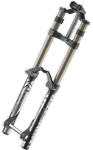 There are a lot of fork manufacturers out there, but we only recommend a few. For a downhill fork check with the manufacturer, and make sure the fork is suitable for downhill. We recommend Marzocchi, Rock Shox, Manitou, Fox, and White Brothers forks. Each company has a variety of fork models. Check out what they offer and the prices. You will see that there are large differences in fork prices, and quality.